Announcing 2 New Fortune Refrigerated Products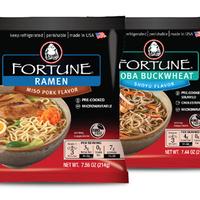 BIG NEWS FROM CHEF YAKI... TWO NEW FORTUNE PRODUCTS YOU HAVE BEEN ASKING FOR
- Ramen Noodles with a Pork Miso Soup Base
- Soba Buckwheat Noodles with a (Soy) Shoyu Soup Base
These Fresh Noodles have the same Quality you would find at your favorite noodle restaurant but with the opportunity to make them your own.
Find in the fresh produce section of your grocer next to the tofu...
Pre-cooked, natural, cholestrol free and Non-GMO.
These Noodles Make You Want to Shout...