New Specialty Noodles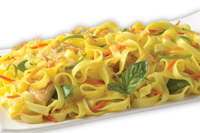 Gluten Free Rice Noodles!
JSL responds to the growing demand for gluten free products. We have developed products for all three of our business segments.  JSL Rice Noodles are pre-cooked, natural with no MSG, cholesterol or trans fat.
Consumers can find our two new Fortune Rice Noodles - Thai Peanut and Coconut Curry with recipes on the package in their grocer's produce section.  New Fortune Specialty Noodles will meet your needs for convenience, flavor and quality while supporting a reduced gluten diet.
New pre-cooked Rice Noodles are available in 1mm, 3mm, 5 mm and 10 mm widths for Foodservice and Industrial.  Portion and recipe sizes available as pasteurized or quick frozen.  Re-Therm cook options include skillet, flat grill, wok, microwave and boil.  Available now.