INTRODUCING the New Vegan, GMO Free, Asian Wrappers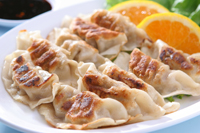 Wrappers have traditionally used egg as an ingredient to develop strength and texture in an Egg Roll, Won Ton or Gyoza Wrapper.  Our R&D Scientists have developed a wrapper that does not use egg  . . . . but is superior in texture, strength and workability.   Plus they have the authentic taste that is preferred and contain less sodium than our competitors.  The new wrappers are easy to work with, low oil absorption, even browning and small bubbles.  
Consumers can look for these New Twin Dragon Wrappers in their grocer's produce section.  Versatile recipes are on each package to get you going in your Asian or Fusion meal.
The new wrappers are available in larger pack sizes and bulk for Foodservice and industrial customers.
These new products will save time and waste in production . . . they perform well in Fry, Steam or Boiling applications.